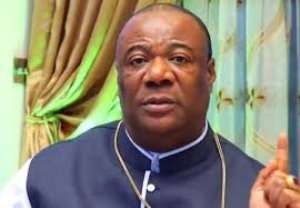 The Presiding Archbishop and General Overseer of the Action Chapel International ministry, Nicholas Duncan – Williams has said some individuals have resorted to lampooning our elders and people in authority all in the name of politics.
Speaking this morning on the Super Morning Show on Joy FM, he indicated, "It's not right to insult politicians, our leaders; you don't speak evil of them…we must have a culture of honour in this country…It looks like in the name of democracy, we are losing honour and respect for the elderly and dignitaries."
He continued, "No matter what leaders do wrong, or a father or mother does wrong we must speak truth to them. But we must always keep honour and respect in line. We must never cross that line of disrespecting and dishonouring them even when they err… we must hold them accountable to truth but with a lot of wisdom, honour and respect at the same time."
The revered man of God added all the role of the church in the face of politics is to be the light of the world and the salt of the earth to which they should at all times speak the truth to power.
On the issue of the recent brouhaha on the Comprehensive Sexuality Education (CSE) programme, the Archbishop said, "…parents must take responsibility when it comes to sex education. We shouldn't leave it to the world or schools to teach our kids sex education…"
He admonished society to teach issues of sex education "based on the rules of our kingdom and we shouldn't allow the world to impose their method of sex education on us. And added that we should be very careful about that."
"They shouldn't impose that on us. We are not going to conform to the standard of this world and what they call sex education if it violates our belief system, " he emphasised.