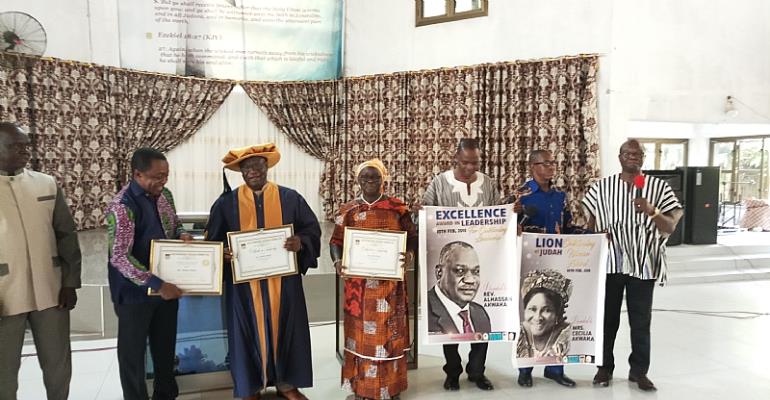 The Senior Pastor of the United Assemblies of God (AG) Church, Reverend Alhassan Akwaka, has been awarded a Doctor of Divinity by the Alpha International Theological Seminary (AITS), a member of the Association of Christian Colleges and Seminary (AICCS) in USA for his outstanding leadership on 10th February, 2018.
The award which was presented to Reverend Alhassan Akwaka after satisfying all requirements and presented a well-researched dissertation to the institution is being accredited by the Conference of Faith-Based institutions (COFAB) in South Africa.
His wife, Mrs Cecilia Akwaka, who is religiously described in ministry as the Lion of Judah, was also honoured with a Certificate in Leadership for being a worthy example of true Christian Leadership by the Alpha International Theological Seminary (AITS).
The couples were highly celebrated by members of the congregation during Sunday church service who saw their achievements as a divine upliftment and blessings from God.
Mr. Akwaka, who is now being referred to as Reverend Dr. Alhassan Akwaka, and his wife, wascelebrated for his forty years (40years) in fighting the good fight in the trenches of a commendable ministry that bears the marks of true call of God.
He is married to Cecilia Akwaka and blessed with six children who are undertaking courses in abroad except Paul and Anna who are both in Ghana studying Law (final year at the Ghana Law School) and fashion design respectively.
Brief Profile
Reverend Dr. Alhassan Akwaka was born on August 21, 1945 to Mr Akwaka Akonga, a peasant farmer, and Madam Aseda, a petty trader, in Bawku Nayoko in the Upper East Region.
In 1970, Rev. Dr. Akwaka enrolled at the Northern Ghana Bible Institute (NGBI) in Kumbungu after he received the call to full-time ministry.
After graduating from the Bible Institute, Pastor Alhassan took up a new and peculiar challenge to reach out to the people of Northern descent in and around the city of Accra.
He started with a small band of northerners (Burkina Bes, Malians and indigenes of Northern Ghana) from the Evangelical church which later inspired his vision to establish the United Assemblies of God Church in the metropolis for people of Northern descent.
Rev. Akwaka has held a number of leadership positions in Assemblies of God, Ghana which include Zonal leadership and Modality Committee Membership.
He later became the District Pastor of the Adabraka District in 1995, a position he held until 2008. The church has also been relocated to its own four-plot of land with a befitting edifice at Achimota Miles 7.
The Adabraka District remembers him for his courageous and principled leadership that was marked by unity among the reverend ministers. It was under his leadership that a number of brethren in United Assemblies of God Church honoured the call to full-time pastoral ministry.
They are Rev. Joseph Azumbila Bani, Nalerigu AG; Rev. Samson Yakubu, Miracle AG, Garu; Rev. Dickson Abugri, Gospel Power Assemblies of God, Madina; and Rev. George Borla, Mount of Hope AG, Maamobi.
Each of these ministries has targeted his efforts at people of Northern descent, thus reinforcing, in one way or the other, the original vision of Dr. Rev. Alhassan Akwaka.