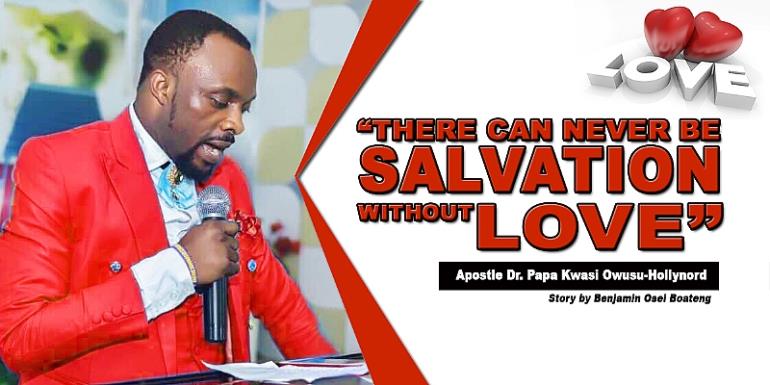 The General Overseer of the Redemption Family Chapel International, Apostle Dr. Papa Kwasi Owusu-Hollynord has said "anything that does not end in love is sin". He said, the end product of God to mankind is love and so it is incumbent upon all believers to express love to all especially unbelievers. According to him, Christians cannot recue the perishing by condemning them.
Speaking on the theme, "Love Revolution" last Sunday, February 25, 2018 at the First Love Service of the church at Dansoman, Accra, he said "as Christians, our actions must redeem and not condemn unbelievers. Love is the magnet that pulls people from bottomless pits to places of freedom through Jesus Christ". He explained that the power in the Word of God does not come only from the Word but by the exhibition of love to the lost.
"I am particularly saddened by the hatred that some professed-Christians have for the unsaved. Yes, God hates sin, not sinners. Let us never stray from the Word of God that describes His wondrous love for mankind, which allowed Christ to be nailed to the cross for our sins", he added.
Affectionately called "the Mystery Man", Dr. Owusu-Hollynord revealed that churches today are full of spiritual "judges and lawyers", adding that some self-professed Christians today have developed so much interest in condemning people. He observed that Christians tend to be more biblical and yet not spiritual. "God is not interested in the number of hours you pray but rather the exhibition of love towards the lost" he added.
He wondered why today, believers seem to be more concerned with earning credentials and reputation rather than the salvation Jesus Christ preached. "Until your love overrides your pride, you cannot please God", he emphasised.
Dr. Owusu-Hollynord admonished the married and unmarried to endeavour to turn the hearts of their partners to Christ in order to find true love and happiness in their unions.