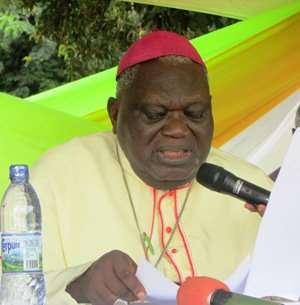 The Most Reverend Peter Akwasi Sarpong, former Catholic Metropolitan Archbishop of Kumasi, has paid tribute to individuals and organizations, who boldly stood up against military rule and fought for democracy.
The nation's constitutional democracy and the resultant political stability was a fruit borne out of their fearless agitation for freedom of speech and respect for the fundamental human rights of the ordinary Ghanaian.
Emeritus Archbishop Sarpong was speaking at the launch of 'Ogyakrom – the Missing Pages of June Fourth', a book authored by Professor Kwesi Yankah, Minister of State in-charge of Tertiary Education, in Kumasi.
The 310-page book, published by the Standard Newspapers and Magazines (SNAM) Limited, was inspired by events in two previous military regimes – General F.W.K. Akuffo-led Supreme Military Council (SMC Two) in 1978, and Flight Lieutenant Jerry John Rawlings' 1979 June Four Revolution.
It highlights the seismic – turbulent period in Ghana's political history – the preceding events and the aftermath of the regimes and lessons to be learnt from the historical facts.
The book presents through satire, an accurate account of how some gallant men and women refused to be frightened by oppressive rule and fiercely battled to defend the values of freedom of speech and democracy.
It tells how the 1979 revolution brought in its wake a culture of silence and socio-economic hardships, which eroded the quality of life of the people.
The Most Rev Sarpong said it was important that the nation learnt useful lessons from its political past.
He added that it should be obvious to everybody from previous political experiences that the way to fight the ills in the society was not through intimidation and brutalities.
He said consensus-building and freedom of expression was the way forward – the right path to travel to bring progress.
Otumfuo Osei Tutu II, Asantehene, in a message read for him, applauded the author for his sense of patriotism and zeal to contribute towards deepening democratic governance.
Prof Yankah eulogized the late Prof Albert Adu-Boahen, an eminent historian and politician, for breaking the culture of silence – a turning point in the nation's march into its fourth republic.
He also recognized the critical role played by Catholic priests, who courageously condemned the atrocities and excesses of the military in those fiery days.
GNA
By Stephen Asante, GNA