Pro-Life Groups Face Continued Discrimination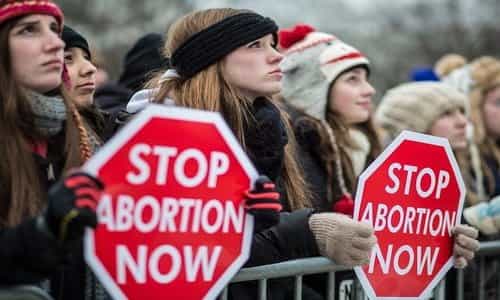 BY PNW STAFF NOVEMBER 08, 2017
Share this article:
---
A series of recent actions taken against pro-life advocates has resulted in an increasingly hostile climate in which merely speaking out for the right to life is vilified, censured, attacked or labeled as discriminatory.
Everywhere, from university wellness fairs to Twitter, from the Apple app store to campus lawns, those in the media and academia are increasingly using their power to support abortion and censor those who attempt to speak out.
Last week, the Students for Life of America saw their public pro-life display vandalized over-night on the campus of Northern Kentucky University. The university organization campaigns to abolish abortion through raising awareness, educating students and pressing for open dialog on the right to life.
Their display consisted of a lawn covered by crosses to represent the babies who die in abortions every day. Sebastián Torres, one of the group's organizers, told reporters, "I think they were destroyed because students or faculty did not agree with the pro-life message of wanting to save children from abortion. Unfortunately, instead of publicly debating us, they broke the law and destroyed private property."
At Baldwin Wallace University, a Methodist college in Ohio, a pro-life group, Right to Life, tried to set up an informational table at the Relationship and Sexual Health Awareness Fair planned for November 3rd. The purpose of the fair was to educate college students seeking resources and guidance when faced with decisions regarding sexual health and sexual behavior.
The objective of the pro-life group was to present the negative mental, physical and emotional consequences from having an abortion. "It's a sexual health fair, and we wanted to educate students about the physical, mental, and emotional consequences of abortion, in order to ensure students were making truly informed choices," said Bryan Istenes, one of the pro-life group members.
The LGBT group responsible for organizing the fair barred the pro-life group from reserving their table on the grounds that the fair was meant to be "sex-positive". Their official statement stated, ""Unfortunately, Allies is going to have to deny your request for a table at this event. Our intention is to promote sex positivity and sexual health awareness, […] and we do not feel as though it would be an appropriate setting for Right to Life's message," and that their installments, "do not meet our definition of sex positivity and sexual health awareness."
It is in this way that promoting the murder of unborn babies passes for sex positivity while advocating for the right to life is deemed inappropriate.
Another act of censorship, this time from Twitter which censored the phrase "killing babies" from being allowed to run in an advertisement paid for by the pro-life group Susan B Anthony List. The group had made a video for the Virginia Attorney General election that exposed the positions of the pro-abortion Democrat running in the race, Mark Herring.
The video was only up for a few days when it was removed for violating Twitters subjective use policies. These 'use policies', Marjorie Dannenfelser of the SBA List points out, seem to deem the actual killing of babies acceptable while naming such a sin is not. The group has created a new advertising campaign, this time in support of pro-life gubernatorial candidate Ed Gillespie, and will be running it across several social media platforms.

Apple has also joined in by removing an app last Wednesday that coordinated prayer efforts for those who had been considering an abortion. The app allowed users to acknowledge when they had prayed for someone who was in a difficult emotional life situation, and it tallied the prayers indicated by all users.
The app had been active since 2013 with tens of thousands of downloads and regular users. One the app's creators said about the removal, "The pregnant women we serve are experiencing true crises. Many of them do not have partner support, are single parents with other children or are caught up in abusive or coercive relationships.
Our supporters want to pray for the women and children we serve, and the app is a way of sharing prayer needs with them." Apple cited functionality defects with the 5-star app but refused to suggest any necessary changes or a chance for reinstatement for the app that continues to be accepted in the Google Play store where it also has not garnered any complaints about defects.
Time and time again we see a pattern emerging whereby pro-abortion factions shut down debate, stifle free speech and try to demonize pro-life and Christian advocates. The very existence of a public debate is threatened by this atmosphere of continued harassment and discrimination at all levels.