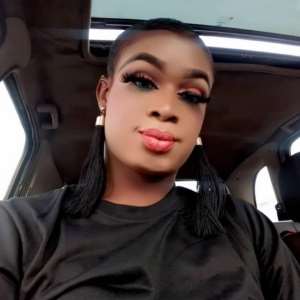 Ghanaian Transgender, Angelina Coleman
Ghana's first transgender, Angelina Coleman, popularly known as 'Madina Broni' has revealed she would be getting married soon.
In an exclusive interview on Joy News, viewed by ModernGhana, the 26 years old transgender said she would soon be tying the knot with a Ghanaian-Belgium pastor who she has been dating for eight months now.
"I am attracted to men and I have a boyfriend who is in his late forties. I was surprised because I never believed I would date or marry a pastor but he proposed about eight months ago and it was a very wonderful feeling," she said.
She disclosed that she has been accepted by the family of the soon to be husband and stressed that plans are underway for their wedding.
"We are making plans towards a big wedding and his family has accepted me for who I am with his mom coming down on May 27 to see me," she intimated.
Angelina Coleman for the past three years has been living as a woman.
She began taking medications for her sex change after traveling to Spain where she started the process of her transformation from male to female and underwent sexual reassignment surgery.
According to her, she believes it was part of God's plan to change from her to a complete woman.