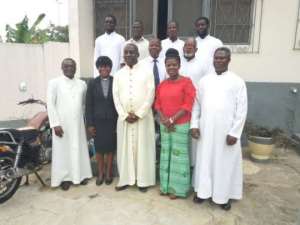 Koforidua, March 26, GNA- Nine persons including Ministers of the Gospel and a retired Chief Director of the civil service, have graduated from Clinical Pastoral Education to provide ministry to people in crisis situation.
The participants were trained in palliative care, which is a multi-disciplinary approach to specialised nursing care for people with terminal illnesses, Managing stress, breaking of bad news, HIV and AIDS counselling and Will writing to deal with the social issues of their congregants.
The CPE was started by Monsignor Alex Benson, Founder and Director of the Mathew 25, an HIV and AIDS care centre, at Akwatia in 1999 to equip chaplains and ministers of the gospel with skills to manage the vulnerabilities of people in society especially HIV and AIDS.
Monsignor Benson explained that the CPE was a programme with theological reflections to integrate theology and life experiences together for members of the clergy, chaplains and other workers in the vineyard of God.
He said participants of the programme were equipped to be able to deal with the social situations of people during death, illnesses and other crisis situation adding that Will writing was very crucial to deal with challenges that arose after the death of spouses and parents.
According to Monsignor Benson, Leaving behind a Will was crucial to the survival of many children after the death of their fathers, yet it appeared to be ignored 'that's why CPE trains participants to be able to convince people to write Wills to protect their families after their death'.
Madam Golda Asante, Eastern Regional Director of the Ghana AIDS Commission, urged the participants to create the awareness that the Anti-Retroviral drugs were the only drugs that could manage the disease and that it was real.
She said, lately some churches were making it difficult for people infected with HIV to take their treatment by telling them it was a curse and other lies increasing the defaulter rate in the region.
She said in order to achieve the global agenda 90-90-90, the role of the church was crucial in preaching against discrimination and judgments on people who were infected to ensure that by 2020 90 per cent of Ghanaians knew their status, 90 per cent of those infected were on treatment and 90 per cent had reduced their viral loads to zero.