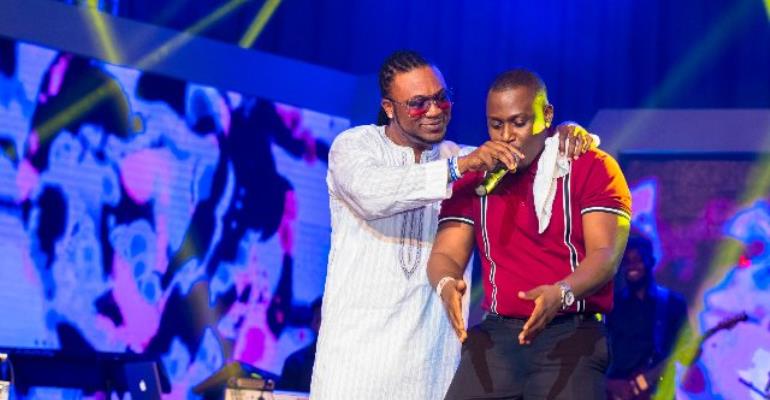 MTN, in collaboration with Slip Entertainment gave Ghanaians the perfect climax for the Farmers' Day celebration on Friday.
The MTN Music Festival train which carries the nation on memorable holiday celebrations once again ignited excitement on the day to celebrate men and women who have tilled the soil to feed Ghana.
With a live band, artistes from different eras treated patrons at the Accra International Conference Center to refreshing Highlife music.
Highlife veteran Nana Tuffour performed his classics including 'Meyere Dada', 'Sika Yi', and 'Diana'.
Songstress Adina, brought a feminine touch to the show 'Killing us softly' till it was 'Too Late' for the audience to stop dancing.
A brief interlude from Andy Dosty had the auditorium reminiscing bangers such as 'Odo Esisi Mi' from Akatakyie, 'Sika Ba' from Lord Kenya, 'Akatesia' from Kontihene and others.
Bright of Buk Bak fame made a surprise appearance on stage and delivered the music group's songs which have remained relevant for years with his silky voice.
During his performance, he invited Coded of 4X4 to join him and before ending his delivery, he cautioned the two feuding members of 4X4 which include Captain Planet, to settle their differences.
Amarh Pino was next to blow patrons away with his 'Maria' and 'Ozimzim' vibes.
The 'King' with the 'CCTV' 'Promised' an exciting time and he did that while capturing the souls of all at the Conference Center.
Kuami Eugene wrapped up the night performing songs such as 'Angela', 'Confusion', and 'Wish me well'.
Rapper Okyeame Kwame and Hitz FM's Doreen Avio with support from Merqury Quaye, steered affairs at the Farmers' Day edition of MTN Music Festival.