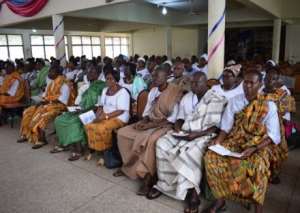 The Evangelical Presbyterian Church, Ghana (EPCG) has held its 24th National Delegates conference at Jasikan with a call on Presbyters to unite in rendering service to sustain the sacrifices of pioneers of the Church.
According to a statement from the EPCG copied to the Ghana News Agency, Right Reverend Dr Seth Senyo Agidi, the Moderator of the General Assembly (GA) of the EPCG urged the delegates and all Presbyters to bear in mind the core mandate of the Church as demanded by Jesus the Christ in Matthew 28:19 to go make disciples.
The statement said he charged them to make decisions that would inure favourably to the disciple making mandate of the Church.
Right Reverend Dr Agidi noted that the Presbyters, individually and collectively had more work to do if the desire of the EPCG, thus 'Break New Grounds' would become a reality.
'The input of Presbyters is therefore very critical to the efforts of the evangelism efforts and planting of more congregations in order to reach the unreached with the total Gospel of Christ,' he said.
The statement said, Mr Jonas Dzodzodzi, the Presbyter Executive, admonished his colleagues to endeavour to reflect the core values of the Church and also reflect the image of Christ in all aspects of their lives.
It further said, Dr E.G.S. Azuma, the National President of the Presbyters' Union noted that Christ, the head of the Church, assigned each member different duties towards the building of his Church with each being equipped with the necessary gifts of grace to accomplish their assigned tasks.
He called on the Presbyters to exhibit the Christ-like qualities of humility, unity and love, forgiveness and to rise above temptation and beyond all else endeavour to be 'the salt and light' of the earth.
The Conference according to the statement, offered the opportunity for the formal induction of the Executive Committee which had been operating since January 2018.
'The ceremony was performed by Right Reverend Dr Agidi with support from the Clerk of the GA, Reverend Dr E.A.K. Amey,' the statement noted adding that the term of the union Executive would be for three years and could be re-elected for a second term of three years.
The inducted Executive Members of the EPCG National Presbyters' Union according to the statement were 'Mr E.G.S. Azumah as the National President, Mr Julius Akor-Boafo as the National Secretary, Mrs Margaret Adzacodjo as the National Secretary, Mr M. K. Atengbley as the National Financial Secretary Mr Timothy Bondorin as the National Public Relations Officer'.