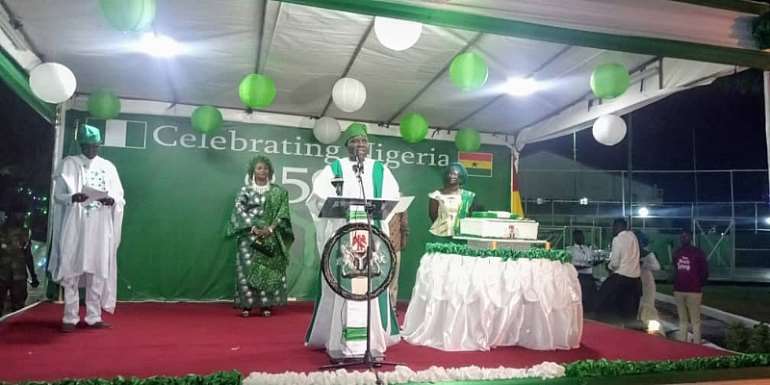 Minister of Food and Agriculture Dr. Afriyie Akoto has commended Nigeria for supporting Ghana's bid to host the secretariat of the African Continental Free Trade Area (AfCFTA).
Speaking at the 59th of Nigeria's independence, he hailed Ghana's partnership with Nigeria in the areas of trade and sustainable development.
In a short presentation, he said, the AfCFTA stands as an opportunity for Africa to economically strengthen it base.
He added that the free trade Area will further deepen the co-existence between the two countries.
Dr. Afriyie Akoto in his speech praised the continuous peaceful relationship between Ghana and Nigeria and commended the Presidency of Muhammadu Buhari.
Nigerian High Commissioner to Ghana His Excellency Olufemi Michael Abikoye, in an address urged Nigerians to continue to support the government of President Muhamadu Buhari which is working hard to revive the economic fortunes of the economy.
According to Ambassador Olufemi, all indicators are pointing to the right direction, a clear testimony to the transformative agenda for prosperity currently being pursued by President Mahamadu Buhari.
He reiterated his government's vision of diversifying the economy, securing the population from internal and external threats and creating prosperity for Nigeria's future generations.
In 1960, Africa's largest and most populous country gained independence from the United Kingdom. This momentous occasion is celebrated each year across all of Nigeria's 36 states and Nigeria's missions abroad including Ghana, one of Nigeria's closest allies and trade partners.
Several dignitaries graced the momentous occasion including members of the diplomatic corps, and other high powered dignitaries from Civil society organizations both within and outside the African continent also graced the occasion.
The night was a memorable opportunity for the Nigerian Community in Ghana to meet and deliberate on peaceful co-existence and ways to contribute towards the socio economic development of their motherland.
The event also displayed the full culture and Nigerian traditions to promote the Country's rich cultural heritage.