Diana Asamoah Snubs Mary Agyemang?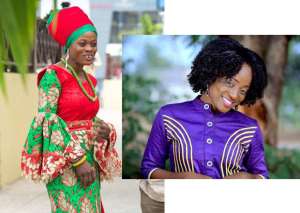 Gospel musician Mary Agyemang won't be performing at Evangelist Diana Asamoah's upcoming gospel concert dubbed 'Abba Father', even though both artistes are label mates.
Both Diana and Mary are signed to Frimprince Music Productions, one of Ghana's oldest record labels.
Late last week when the label launched the concert for Diana, Mary's name was conspicuously missing among the list of performers.
Sources have told NEWS-ONE that all is not well between the two gospel artistes, hence Mary Agyemang was not included in the list of performers for the 'Abba Father' concert.
The event, which is being powered by Frimprince Music, will come off at the Accra International Conference Centre (AICC) on December 3.
Among artistes billed to perform with Diana Asamoah are Ceccy Twum, Ohemaa Mercy and Mark Abraham.
Anane Frimpong, CEO of Frimprince, has confirmed that Mary Agyemang won't be performing, but denied it is because the two gospel giants don't see eye to eye.
According to him, "There is no problem whatsoever between them. They are perfectly OK. But it is just that Mary won't be available to perform because she is not a worship gospel songstress.
"It's a worship concert and Mary is not worship artiste so for now she is not going to perform. Later we will organise another concert and she will be on it," he told NEWS-ONE.
The 'Abba Father' concert is Evangelist Diana Asamoah's gospel concert to be held in Accra since she started music years ago. Speaking at the launch ceremony, Evangelist Diana explained that prior to the 2016 elections, "I told God if He grants Ghana a peaceful election, I will bring together my colleagues to glorify His name."
According to her, God has, indeed, kept to His promise and it is left for her to fulfil her part